With her "can do" attitude, frequent smile, and hearty laugh, Trinetta Alston is always ready to play many roles in service to the patients of the Community Health Center of Buffalo, Inc. (CHCB, Inc.).
She is a Licensed Practical Nurse (LPN) and primarily serves as Vaccine Coordinator for CHCB, Inc.'s five locations in Erie and Niagara counties. (You can also often find Trinetta at CHCB Outreach events stationed in CHCB, Inc.'s mobile health unit providing vaccinations to walk-up community members.)
Trinetta is also a Community Health Nurse and on a weekly basis, visits homebound patients, including those who have needed end-of-life care. And recently, Trinetta became a Medicaid Certified Doula and, in this role, assists families through pregnancy and delivery with the goal of ensuring healthy mothers and babies, in addition to providing education for nutrition, breastfeeding, comfort measures, and the birthing process.
Trinetta provides a COVID vaccine during the filming of CHCB, Inc's documentary film "FIGHT FOR GOOD: One Body One Soul."
As a mother, grandmother, and graduate nurse preparing for her Registered Nurse (RN) board exam, you might think Trinetta's plate is plenty full, with little extra room for more service. But if you thought that, you don't really know Trinetta and why she sees all opportunities to provide care for others as another "God-given" chance to give back for all that she has received.
 "After my Junior year in high school, I joined the Army and served for 11 years," said Trinetta. "I was in an infantry unit and deployed to Germany and other locations including Ft. Knox, Kentucky and Ft. Lee, Va."
"After I got out, I became addicted to drugs," she continued. "Fortunate for me, I had people who cared about me and were willing to support me to recover from addiction. People like my mother and Dr. Ansari (Chief Executive Officer) saw a different path for me and helped me get there. Today, whenever I get the chance, with God's help, I just want to pay it forward."
In the immediate days following May 14, 2022, Trinetta eagerly answered the call from Dr. Ansari to provide some of the most demanding, and yet she would tell you "also some of the most rewarding" care and comfort services she has provided to date in her career.
As a member of CHCB, Inc.'s "Response Team," including Dr. Kenyani Davis, MD, MPH, Chief Medical Officer; and Behavioral Health staff, Trinetta met with Tops Supermarket employees who were traumatized by a mass shooting that killed ten people at their Jefferson Ave., East Buffalo store. In the days and months that have followed, not only has Trinetta become a trusted friend, in addition to a caring counselor, but she was named an honorary Tops employee by the group and given a Tops uniform shirt and employee badge to signify "she was one of them."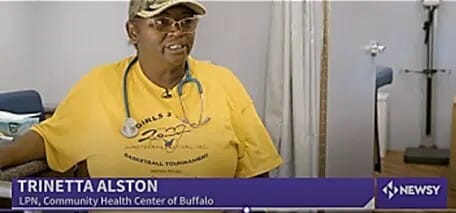 "When we first got there, it was talking about it with those that wanted to talk and get it out," Trinetta told Amber Strong, a reporter from NEWSY, a national news organization that came to Buffalo in the days following May 14. "That, I would say, was the hardest part. That was the hardest part for me because I'm talking to grown men who were raised at a time when men aren't supposed to cry."
"Healing, it's not a quick thing; it's just not," Trinetta continued. "You don't know when they're gonna need support, somebody to talk to. You don't know when it's going to hit someone. Some of them haven't even really hit them yet, but it will."
And whenever the Tops' employees or another CHCB, Inc. patient needs help, you can count on Trinetta to be there.
WATCH NEWSY STORY ONLINE: https://www.newsy.com/stories/tops-supermarket-reopened-but-some-employees-aren-t-ready/
About Trinetta
Trinetta, who recently celebrated her 11th year anniversary with CHCB, Inc., previously served as a Pediatric Nurse at the organization's Niagara Falls, NY health center.
Trinetta earned her Licensed Practical Nurse (LPN) from Erie 1 Board of Cooperative Educational Services (BOCES); and also earned an Associate's degree in Science Nursing (ASN) from The Catherine McAuley School of Nursing at Trocaire College, Buffalo, NY.
She will be taking the board exam for Registered Nurse (RN) licensing.
Recently, Trinetta completed Community Vaccine Champion" training with REACH Buffalo. The Community Vaccine Champion initiative is part of Racial and Ethnic Approaches to Community Health (REACH), a project administered by CAI that uses a community-led approach to help to reduce chronic illness among African American/Black residents in five underserved ZIP codes in Buffalo, NY.
As a Champion, Trinetta has completed training to enhance her abilities to:

Understand the role within the community in supporting informed decision-making regarding vaccinations.
Utilize critical communication skills to facilitate real and authentic conversations with community members.
Share educational messages about vaccines to make sure people have accurate and unbiased information.

She has also received the 2022 mycrobig.com "Community Impactor" Award; the 2015 "Richard Judelson Western New York Vaccine Champion" Award; and a Certificate of Recognition from New York State Senator Timothy Kennedy for "going above and beyond the call of duty to keep our children healthy."