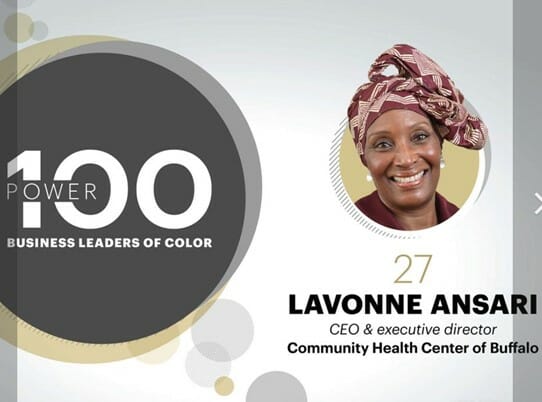 Raheel Ahmad, chief medical officer, Millard Fillmore Suburban Hospital & DeGraff Medical Park, Kaleida Health
Lavonne Ansari, CEO & executive director, Community Health Center of Buffalo
Thomas Beauford Jr., president & CEO, Buffalo Urban League
Herbert Bellamy, CEO/president, Bellamy Enterprises/Buffalo Black Achievers
Mark Blue, president, NAACP
Rosalind Burgin, co-founder/president-elect, MMB Realty Group/Buffalo Niagara Association of Realtors
Trina Burruss, incoming CEO, United Way of Buffalo & Erie County
Hans Cassagnol, executive vice president, chief clinical officer, physician executive, Catholic Health
Luis Cervantes, plant manager, General Motors Tonawanda Engine Plant
George Chamoun, CEO, ACV Auctions
Aaron Chang, president, Sisters of Charity Hospital, Catholic Health
Michael Chapman, pastor/CEO, St. John Baptist Church/St. John Fruit Belt Community Development Corp.
Katherine Conway-Turner, president, SUNY Buffalo State
Fadi Dagher, founder & president, Cedarland Development Group
Greg Daniel, president & managing member, Luthuli Group
Andrew Davis, chief operating officer, Erie County Medical Center
Clotilde Perez-Bode Dedecker, president & CEO, Community Foundation for Greater Buffalo
Bassam Deeb, president, Trocaire College
Errol Douglas, senior vice president & chief human resources officer, Roswell Park Comprehensive Cancer Center
John Elmore, founder, The Law Office of John V. Elmore P.C.
Steve Finch, vice president of manufacturing and community engagement, Viridi Parente Inc.
Glenn Jackson, chief diversity officer, M&T Bank
René Jones, chairman & CEO, M&T Bank
Dwayne Jones, pastor/president, Mt. Aaron Baptist Church/Community Hope Builders CDC Inc.
Irfan Khan, CEO, Circuit Clinical
Brenda McDuffie, chair, ECIDA
Faisal Merani, CEO, Merani Hotel Group
Brandye Merriweather, president, Buffalo Urban Development Corp.
James Morrell, director of public transit, Niagara Frontier Transportation Authority
Kevin Nephew, president & CEO, Seneca Gaming Corp.
Kim Pegula, president & CEO, Pegula Sports and Entertainment
William Pryor, executive vice president & chief administrative officer, Catholic Health
Lori Quigley, interim president/chairwoman, Medaille University/Seneca Gaming Corp.
Nagendra Raina, CEO, Buffalo Games
Chandra Redfern, CEO, Buffalo Federation of Neighborhood Centers
Catherine Roberts, president & CEO, Resource Council of WNY
Casimiro Rodriguez, president emeritus & founder, Hispanic Heritage Council of Western New York
Luis Rodriguez, CEO, Rodriguez Construction
JC Seneca, owner, Native Pride Travel Plaza, Six Nations Manufacturing, Tallchief Hemp and Tallchief Native Pride Fuel
Rupa Shanmugam, president/CEO, Sopark Corp.
Adnan Siddiqui, CEO/Surgeon, professor and vice chairman, Jacobs Institute/UBNS
Steve Stoute, president, Canisius College
Ashok Subramanian, CEO & co-founder, Centivo
Thurman Thomas, president, 34 Group
Satish Tripathi, president, University at Buffalo
Stephen Tucker, president & CEO, Northland Workforce Training Center
Anthony Vazquez, Buffalo site president, Citi
Raul Vazquez, president, CinqCare of NY
Edward Watts Jr., president, Watts Architects and Engineers
Tonja Williams, superintendent, Buffalo Public Schools
Power 100 Business Leaders of Color kicks off with Nos. 100-51
By Michelle Cioci Adams  –  Managing Editor , Buffalo Business First
Nov 3, 2022
In 2013, Buffalo Business First launched the Power 250, an annual list ranking the most powerful people in the region.
In 2016, we added the Power 100 (now 200) Women.
Today we introduce the first half of the Power 100 Business Leaders of Color, No. 100 to No. 51.
They are listed below in alphabetical order; to see where they rank, check out the slideshow above.
Joseph Anderson, owner, Smokin Joes
Al-Nisa Banks, owner, editor and publisher, the Challenger
CJ Banks, vice president, Bitwise Industries
Sheila Brown, CEO & owner, Vision Multi-Media, WUFO 1080 AM radio
Darian Bryan, founder, the Plating Society
Shannon Bryant, chief diversity and inclusion officer, Kaleida Health
Tye and Courtney Caldwell, co-founders, ShearShare
Joseph Chow, president and chief medical officer, TeamHealth Ambulatory Care
Richard Cummings, president, Black Chamber of Commerce of WNY
Zandra Cunningham, CEO, Zandra Beauty
Juweria Dahir, executive director, Entrepreneurship for All
Latricia Davis, owner/director of inclusion, diversity and equity, INTRO Lifestyle Boutique/West Herr Automotive Group
Peter de Jesús Jr., president, Western New York Area Labor Federation, AFL-CIO
Kelly Dumas, chief operating officer, BestSelf Behavioral Health
Ofo Ezeugwu, founder & CEO, WhoseYourLandlord
Karla Gadley, senior vice president, community development officer, Five Star Bank
Fatai Gbadamosi, chief medical officer, Evergreen Health
Dominique Goss, executive director, M&T Charitable Foundation
Andy Hakes, founder & CEO, AireXpert
Joseph Hanna, management committee & partner, Goldberg Segalla
Nina Heard, global supply chain material flow & launch planner, General Motors Co., GM Tonawanda Engine
Kenneth and Sharon Holley, co-owners, Zawadi Books
Tyra Johnson Hux, deputy director, LISC WNY
Joseph Khoury, co-owner, Rachel's Mediterranean
Wayne Lewis Jr., president, Houghton College
Yexi Liu, executive vice president & chief information officer, Rich Products
Deiver Montes, founder & CEO, Avalon Sports
Magdalena Nichols, chief operating officer, Jericho Road Community Health Center
Mark Overall, president, Buffalo Urban League Young Professionals
Chiwuike "Chi-Chi" Owunwanne, corporate responsibility officer and community relations manager, Keybank
Jennifer Parker, founder, Jackson Parker Communications LLC
Derrick Parson, executive director, the Exchange at Beverly Gray
Shantelle Patton, founder/president, That Brown Bag/Urban Chamber of Commerce
Rene Petties-Jones, president, National Federation for Just Communities Western New York
Sheila Rayam, executive editor, Buffalo News
Shatorah Roberson, staff policy adviser, Tesla
Eugenio Russi, executive director, Hispanos Unidos De Buffalo
Riffat Sadiq, president & CEO, WNY Medical PC
Amin Serehali, chief data and analytics officer, Independent Health
Esmeralda Sierra, president, Hispanic Heritage Council of Western New York
Jamie Smith, chief academic officer, Roswell Park Comprehensive Cancer Center
Carmen Snell, vice president & deputy general counsel, Highmark Blue Cross Blue Shield
Larry and Jacqueline Stitts, co-owners, the Golden Cup
Mostafa Tanbakuchi, owner, Ridge Home Furnishings and the Tonawanda Castle
Natascha Thomas, director of the Buffalo development center, Rural Sourcing
Tommy Truong, co-owner, Saigon Bangkok
Larry Waters Jr., president, Minority Bar Association of Western New York
Alexander Wright, founder, African Heritage Food Co-op
Favio Osorio and David Gonzalez, co-founders, Arbol
Sarah Pearson Collins and Kezia Pearson, co-founders, the Race Card LLC
How and why we created the Power 100 Business Leaders of Color
Power Leaders of Color 2022
BUFFALO BUSINESS FIRST
By Michelle Cioci Adams  –  Managing Editor , Buffalo Business First
Nov 4, 2022
As children, we often want to look like the people with power: kings and queens, superheroes, police officers. We dress up like them, in shiny crowns, in flowing capes, in uniforms with badges.
By adulthood, that changes. Now, we want people with power to look like us. We seek out role models who look familiar, who make us dream that one day we will swap places and become the CEO, the business owner or the company president.
For almost four decades, we at Buffalo Business First have been watching — and writing about — powerful business leaders throughout Western New York as they scale companies, create jobs and focus on innovation. Their stories fill the pages of our paper and website.
In 2013, we launched the Power 250, an annual list ranking the most powerful people in the region. In 2016, we added the Power 100 (now 200) Women.
Today we introduce you to the Power 100 Business Leaders of Color.
We considered factors such as the size of a workforce, an organization's revenue and a leader's time in a position. We also looked at community impact and influence: If he or she makes a phone call, how quickly does it get returned? (Note: For this list, we focused only on business and nonprofit leaders and not on politicians or religious or community leaders, despite their influence.)
So, why do we have three separate lists? Many people appear on all three, after all.
Men and women from underrepresented groups regularly face additional barriers on the way to the boardroom, from access to capital to a lack of relationships with those already in power to biases, unconscious and otherwise.
We hope this list prompts conversations, about the people and companies who are on it, and those who aren't; about the systems that hinder the next generation of diverse executives; and about the talented leaders we are fortunate to have among us.
We know this is subjective. Like all our Power Lists, we know that not everyone will agree with the people on it, those missing and the rankings. That's OK; we welcome your feedback and your discussions.
In the end, the goal is that we all see someone in a position of power who looks like us, someone to highlight the opportunities and help us dream.
May we all find our own shiny crowns.
Michelle Cioci Adams is the managing editor at Buffalo Business First